PS, Polystyrene, is a clear, amorphous, non-polar commodity thermoplastic that is available as both a typical solid plastic as well in the form of a rigid foam material. PS is one of the most widely use plastic and is used to make a wide variety of consumer products.
Good Electrical Properties & Low Dielectric Loss
Gamma Radiation Resistance
Chemically Inert:Not react with inorganic chemicals.
Excellent Dimensional Stability:Versatile and easy to process.
food packaging, laboratory ware, disposable plastic cutlery and dinnerware, appliances, showcases, shower screens, frames, CD jewel cases, light diffusers, smoke detector housings, license plate frames, plastic model assembly kits…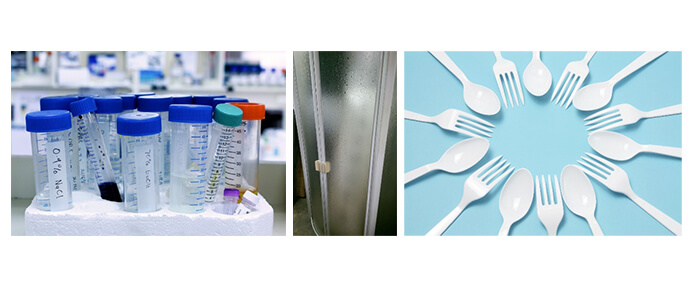 Item
Property
Test Method
Unit
Value
Physical
Density
ASTM D792
g/cm3
1.04
Water Absorption
ASTM D570
%
0.05
Rockwell Hardness
ASTM D785
-
83
 
Mechanical
Tensile Modulus
ASTM D638
psi
4.3 × 105
Tensile Strength
ASTM D638
psi
7,700
Tensile Elongation
ASTM D638
%
2.0 - 3.0
Flexural Modulus
ASTM D790
psi
4.6 × 105
Flexural Strength
ASTM D790
psi
12,000
Izod Impact
ASTM D256
ft-lb/in
0.4
 
Thermal
Vicat Softening Point
ASTM D648
°C/°F
100 / 212
Heat Deflection Temperature at 264 psi
ASTM D648
°C/°F
82 / 180
Heat Deflection Temperature at 66 psi
ASTM D648
°C/°F
96 / 205
Flammability
UL 94
-
HB
 
Electrical
Electrical Volume Resistivity
ASTM D257
Ω-cm
1.0 × 109 - 9.9 × 1010
Surface Resistivity
ASTM D257
Ω / sq
1.0 × 1010 - 9.9 × 1011
Dissipation Factor
ASTM D150
1 kHz
0.0003
Dielectric Strength
ASTM D149
V/mm
20,000