What Is Acetal Resin Material (POM Resin)?
Acetal resin, often referred to as POM resin (Polyoxymethylene resin) stands as a highly crystalline thermoplastic polymer known for its outstanding wear resistance, be it in wet or dry conditions. Prochase acetal resin suppliers offer high-quality materials for industrial use.
Homopolymers VS Copolymers from POM Resins
POM resin offers two variations: homopolymers and copolymers. Homopolymers showcase elevated crystallinity, resulting in slightly higher density, hardness, strength, and fatigue resistance. On the other hand, copolymers exhibit enhanced thermal stability, improved chemical resistance, and greater ease of processing. For more info, please contact your Polyoxymethylene resin company!
Good Creep Resistance & High Dimensional Stability even at low temperatures.
High Strength, Rigidity and Toughness over a wide temperature range.
Resistant to Chemicals:Good resistance to organic solvents and synthetic detergents...
Good Resistance to Hydrolysis:Excellent hydrolysis resistance up to 140 °F
Good Electric Insulation
Low Water Absorption
gears, bearings, bushings, rollers, conveyors, window guides, sliding & spring elements, insulators, speaker grilles, fasteners, ski-bindings, zippers, lighters, fuel pump plates, aerosol valves, watch bracelets, medical devices, snap-fits, impellers, furniture components, coils…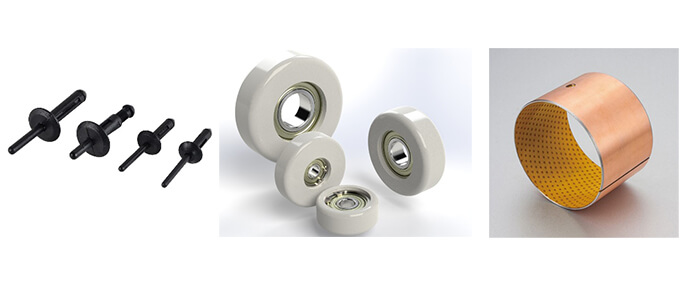 Item
Property
Test Method
Unit
POM-H
POM-C
Physical
Density
ASTM D 792
g/cm3
1.41
1.14
Water Absorption
ASTM D 570
%
0.16
0.22
Rockwell Hardness
ASTM D 785
R scale
120
120
 
Mechanical
Tensile Modulus
ASTM D 638
psi
4.0 × 105
4.5 × 105
Tensile Strength
ASTM D 638
psi
11,000
9,430
Flexural Modulus
ASTM D 790
psi
4.5 × 105
3.9 × 105
Flexural Strength
ASTM D 790
psi
13,000
12,000
Izod Impact
ASTM D 256
ft-lb/in
1.0
1.0
 
Thermal
Heat Deflection Temperature
ASTM D 648
°C/°F
121 / 250
110 / 230
Linear Coefficient of Expansion
ASTM D 696
in/in/°F
4.7 × 10-5
5.4 × 10-5
Flammability
ASTM D 635
-
HB
HB
 
Electrical
Electrical Volume Resistivity at 50% RH
ASTM D 257
Ω/cm
1015
1015
Dielectric Constant
ASTM D 150
1 MHz
3.7
3.8
Dissipation Factor
ASTM D 150
1 MHz
0.005
0.005
Dielectric Strength
ASTM D 149
V/mm
33,000
40,000