PA46 is a semi-crystalline, high heat resistant polyamide. Compared to many other aliphatic nylons, it offers much better mechanical properties retention at high temperatures. It has excellent wear resistance, outstanding level of stiffness, good electrical insulation properties and high chemical resistance.
High Crystallization Speeds & High Crystallinity come from the structural symmetry ensuring that the polymers fit in the crystal in multiple ways.
Highly Resistant to Chemicals:Including fuels, greases, and oils.
Excellent Wear Resistance:Outperforms most high-performance engineering plastics under most conditions.
High Temperature Resistance
Easy Processing because of its outstanding flow.
engine and transmission, engine-management, air-inlet, brake, air cooling and electronic systems, electrical connectors and electrical components, gears, bobbins, fasteners, bearings, bushings, guides, crank shaft saddles, pump parts, and actuators.…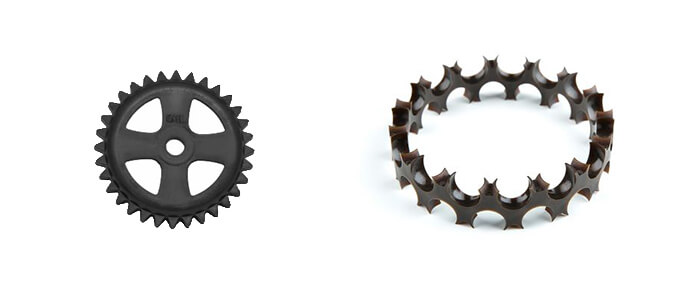 Item
Property
Test Method
Unit
Value
Physical
Glass Fiber Content
-
%
30
Density
ASTM D792
g/cm3
1.65
Water Absorption
ASTM D570
%
3.6
Rockwell Hardness
ASTM D785
R scale
125
 
Mechanical
Tensile Strength
ASTM D638
psi
27,992
Tensile Elongation
ASTM D638
%
2.8
Flexural Modulus
ASTM D790
psi
32,343
Flexural Strength
ASTM D790
psi
1.74 × 106
Izod Impact
ASTM D256
ft-lb/in
1.7
 
Thermal
Melting Point
-
°C/°F
290 / 554
Heat Deflection Temperature
ASTM D648
°C/°F
260 / 500
Flammability
UL 94
-
V-0
 
Electrical
Electrical Volume Resistivity
ASTM D257
Ω-cm
1015
Dielectric Constant
ASTM D150
1 MHz
4.1
Dissipation Factor
ASTM D150
1 MHz
0.015
Dielectric Strength
ASTM D149
V/mm
24,000